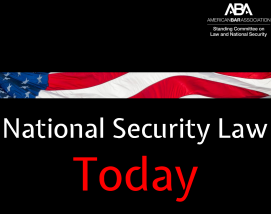 On December 22, 2020
Congress, Cybersecurity, Defense, National Security Policy
On December 9, Lexpat's Managing Director Adam Pearlman was a featured guest on the American Bar Association's National Security Law Today podcast.  Teaming with Andrew Borene and the podcast's hosts Elise Poteat of the U.S. Department of Justice and Yvette Bourcicot of the Match Group, Pearlman discussed several of the cyber provisions included in this year's National Defense Authorization Act, the bill's importance and its role amid Congress' responsibilities in national security, the future role of DHS's Cybersecurity and Infrastructure Security Agency, and the controversy surrounding Section 230 of the Telecommunications Decency Act. 
The podcast episode aired on December 18, and can be found here.