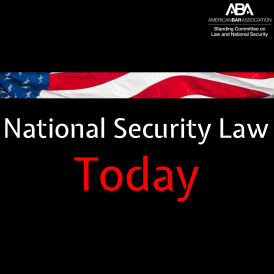 On July 7, 2022
American Bar Association, Cybersecurity, Defense, National Security, Pearlman
The American Bar Association's Standing Committee on Law & National Security featured Lexpat Managing Director Adam Pearlman, along with his co-editor and decorated national security lawyer Col. (Ret.) Kay Wakatake in the latest episode of its podcast, National Security Law Today.  On the podcast, Adam and Kay discussed their newly-released U.S. Intelligence Community Law Sourcebook, as well as the biggest national security law and policy challenges currently facing the United States.
This is the second time Pearlman has been featured on the podcast.  He previously was featured in an episode discussing the 2021 National Defense Appropriations Act's cybersecurity provisions.