On May 3, 2023
Innovation, Leadership
The UCLA Alumni Association has announced its 2023 Bruin Business 100 list, which celebrates the hard work, talent and innovation of exceptional alumni business owners, founders and visionaries.  Lexpat is excited to announce that we have been included on this year's list, alongside several other remarkable companies.  Lexpat was chosen for this prestigious recognition for its work on behalf of both public and private sector clients.  Lexpat's Founder and Managing Director Adam Pearlman is a UCLA alum.
The Bruin Business 100 initiative celebrates the outstanding achievements of UCLA alumni entrepreneurs, connects the Bruin network and inspires innovation by recognizing businesses founded and run by Bruins that have made an impact in their industries and communities.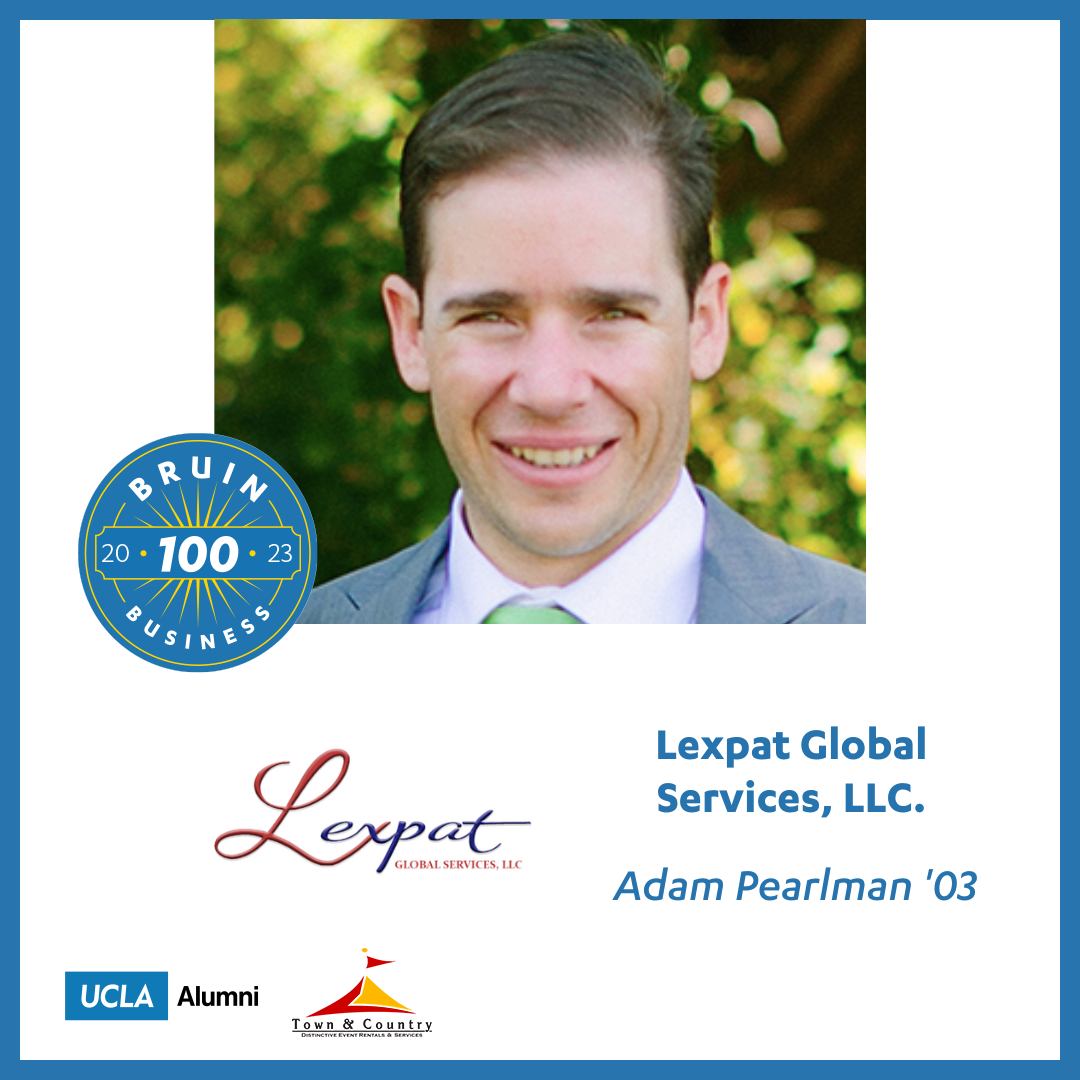 "It's incredibly flattering to be recognized alongside such a list of innovators," Adam said.  "I'm extraordinarily proud of my Lexpat team for all of our successes so far, and am grateful for all the opportunities I had at UCLA.  The school's academic rigor and leadership opportunities played a pivotal role in launching my career.  I've been very lucky in all I've been able to do, and am excited for Lexpat's continued growth and success."
Adam graduated UCLA's College of Letters & Science Honors program with a degree in Political Science and minors in Philosophy and Public Policy.  At graduation, Adam was the Political Science Department's student commencement speaker.  He also completed an interdepartmental specialization in Business & Administration, and developed a formidable record of leadership and service at the school.  Adam served as the Facilities Commissioner on the Undergraduate Student Association Council and twice as Chairman of the John R. Wooden Center Board of Governors, where he successfully promoted the Student Programs, Activities and Resource Complex initiative that greatly enhanced UCLA's recreational facilities.  He was also President of the Courtside and Sunset Canyon Residential Associations, and a member of the On-Campus Housing Council and Policy Review Board.
As a senior student employee of the Department of Cultural and Recreational Affairs, Adam co-authored the 5-year campus recreation strategic plan, which further paved the way for many of the features that UCLA now is making use of in its role as Los Angeles prepares to host the 2028 Summer Olympics.  And as the Assistant Manager of the Men's Track & Field team, he helped to guide and mentor several future Olympians.
Selected selected for the Center for American Politics & Public Policy's prestigious Quarter in Washington program, Adam interned for the U.S. Department of Justice's Antitrust Division during the height of its lawsuit against Microsoft.  The Antitrust Division subsequently hired him for its Paralegal Honors program, thus beginning his distinguished government service career.